Patrick Accounting & Whirks
Patrick Accounting is an accounting firm in Memphis, TN that serves small businesses. Whirks is their sister company and provides payroll, HR, and insurance. They operate out of one office and share many of the same clients, but they are distinct brands and target somewhat different ideal customer profiles.
The accounting side of the business has a strong pipeline and lead-flow. In fact, increasing the number of leads dramatically could be a problem because of their capacity to onboard new clients. It is also fairly easy for them to cross-sell their payroll, HR, and insurance through Whirks.
Whirks on the other hand, has plenty of capacity to onboard new clients, and Whirks clients do not have to also be Patrick Accounting clients.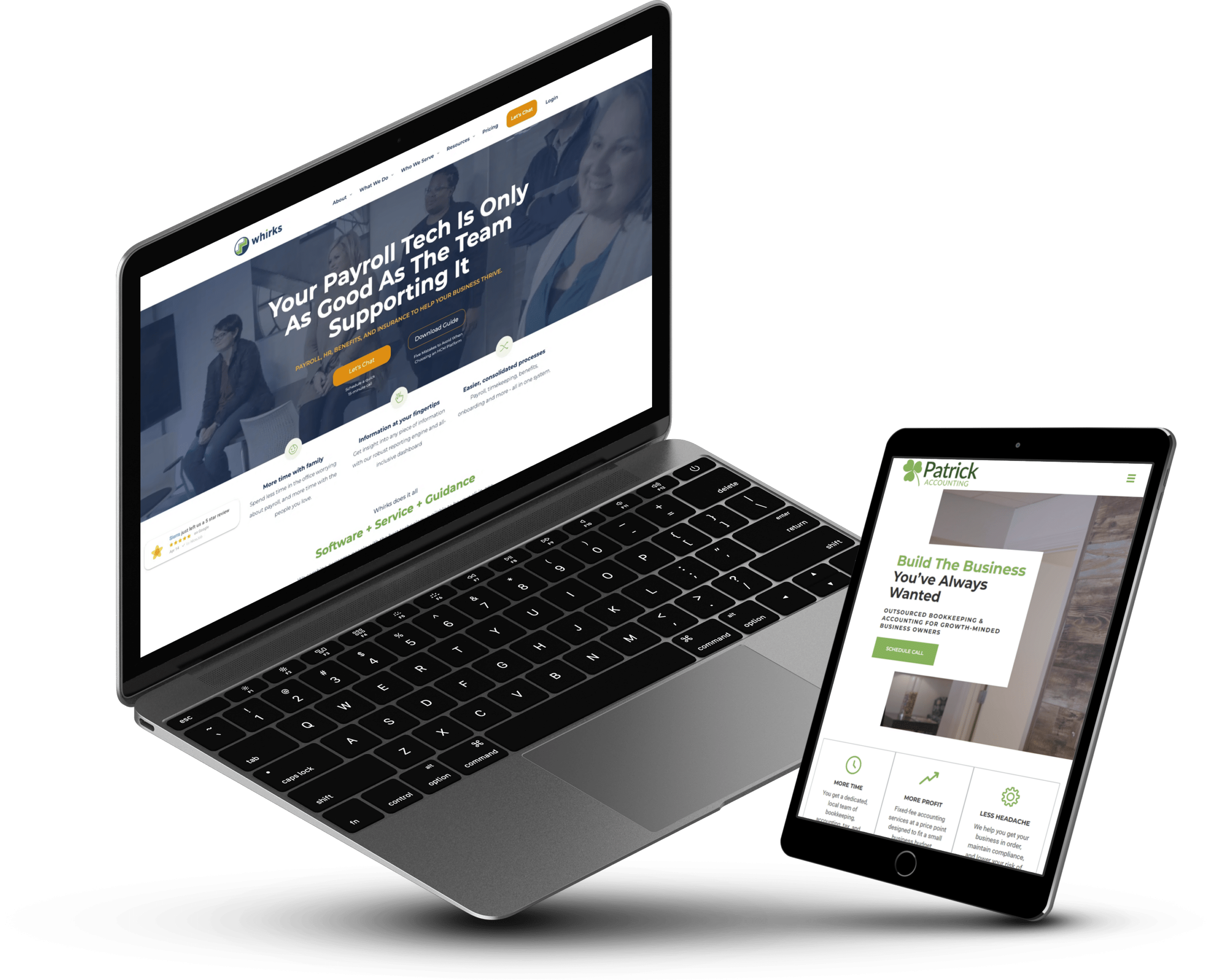 The PA/Whirks team had already begun to invest heavily in marketing. They had hired a three-person (designer, writer, videographer) team to implement their marketing and a variety of marketing initiatives running.
The problem was, they were not sure that everything they were doing was aligned and working properly to reach their goals. They had individual contributors to their marketing but lacked strategic guidance and visibility into their analytics to tell if their marketing was working.
Whirks hired our lead strategist, Matt Banker, to operate as their Fractional Chief Marketing Officer. Matt's primary role was to advise the leadership team and help them make informed decisions on getting the right people in the right seats, choosing vendors and software for their marketing initiatives, creating budgets and making spending decisions, and interpreting data and analytics.
As their in-house marketing team shrunk to one person, Benchmark has also been supporting Whirks with content writing/editing and graphic design.
Some of what we have done since working with PA/Whirks:
Implement the Storybrand framework for their messaging on their Patrick Accounting and Whirks websites.
Develop weekly content using the They Ask You Answer framework for their blog.
Provide guidance on their content calendar for the One Step Better podcast.
Shift marketing platforms (moved from Hubspot to Active Campaign for cost savings),
Implement LinkedIn organic and paid campaigns.
Creat industry-specific landing pages for Whirks
Craft new messaging for Whirks and Patrick Accounting
Redesigned the Patrick Accounting website.
Independent payroll companies like Whirks compete directly with the largest players like ADP, Paychex, Paylocity, and Gusto. Most business owners think about payroll as a commodity and choose their payroll partner based on price.
The biggest challenge for Whirks is to overcome the misconception that all payroll companies are basically the same and make a compelling case for why having a small, local payroll provider can save you time, minimize hassle, and give you more peace of mind about your payroll.
A key part of what we did was develop a problem statement to frame Whirk's positioning:
Payroll software is all basically the same, what makes Whirks different is that we offer:
Software to run your back-office
The best customer support in the industry
Guidance on best practices and compliance
It's an ongoing challenge for independent payroll companies to market their services separately from their accounting firm brand. We have seen green shoots and signals (doubled their average monthly blog traffic, paid campaigns generating occasional leads) that the marketing initiatives are beginning to pay off, but it remains to be seen if we can create a consistent marketing engine with a reasonable ROI for Whirks.